Is Stem Cell Therapy Legal in Canada?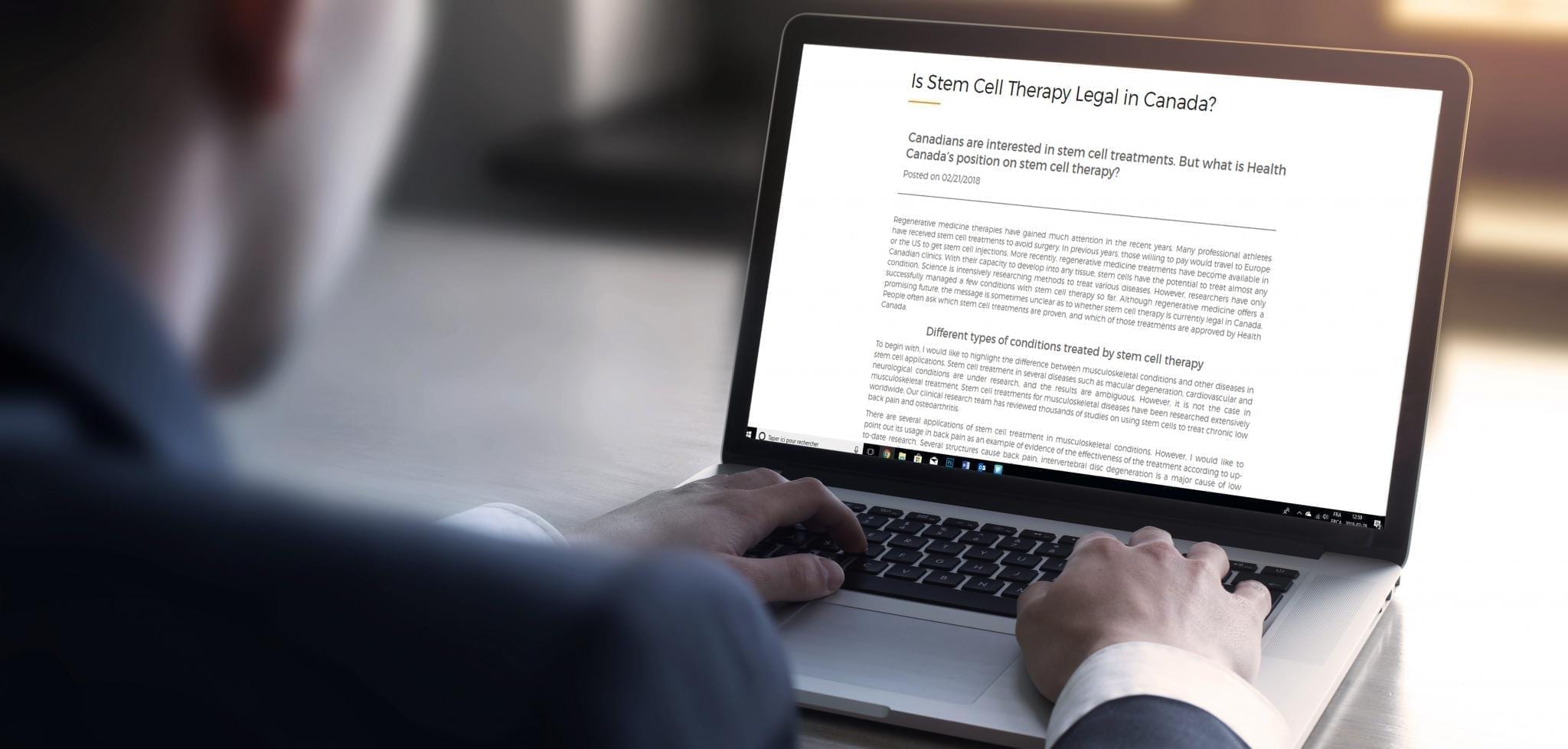 Canadians are interested in stem cell treatments. But what is Health Canada's position on regenerative medicine?
Regenerative medicine therapies have gained much attention in the recent years. Many professional athletes have received stem cell treatments to avoid surgery. In previous years, those willing would travel to Europe or the US to get stem cell injections. More recently, regenerative medicine treatments have become available in Canadian clinics. With their capacity to develop into any tissue, stem cells have the potential to treat almost any condition. Science is intensively researching methods to treat various diseases. However, researchers have only successfully managed a few conditions with regenerative medicine so far. Although regenerative medicine offers a promising future, the message is sometimes unclear as to whether regenerative medicine is currently legal in Canada and which treatments are proven.
Different types of conditions treated by regenerative medicine
To begin with, I would like to highlight the difference between musculoskeletal conditions and other diseases in stem cell applications. Stem cell treatment in several diseases such as macular degeneration, cardiovascular and neurological conditions are under research and the results are ambiguous. However, this is not the case in musculoskeletal treatments. Stem cell treatments for musculoskeletal diseases have been researched extensively worldwide. There are also hundreds of clinical trials that are currently being done.
There are several applications of stem cell treatment in musculoskeletal conditions. I would like to point out its usage in back pain as an example of evidence of the effectiveness of the treatment according to up-to-date research. Several structures cause back pain; intervertebral disc degeneration is one of the major causes. Researchers investigated the benefits of stem cell treatment in intervertebral disc disease and according to the review article Basso, et al., published in January 2017, intradiscal regenerative medicine provided an improvement of pain and function without any side effects apart from localized pain after the injection. Furthermore, Pettine, Suzuki, Sand, & Murphy published in July 2017 their three-year follow-up of stem cell intradiscal injection for patients who were elected for surgery. They saved almost 77% of patients from surgical intervention and allowed them to maintain markedly improved pain and disability scores for the full three years.
Is regenerative medicine legal in Canada?
Regarding the regulations of stem cells, according to Health Canada's Safety of Human Cells, Tissues and Organs for Transplantation Regulations (SOR/2017-119) (Health Canada, 2017), the autologous stem cell does not fall under the regulation. In the Application Section, Scope of Regulation, Non-application – various therapeutic products, it states:
(1) These Regulations do not apply to any of the following therapeutic products:
(a) cells, tissues, and organs that are for non-homologous use;
(b) cells, tissues, and organs that are for autologous use.
Stem cell therapy is legal in Canada. However, Health Canada does not currently regulate cells that are for autologous use. This may change in coming years. Stem cell therapy using autologous cells, reinjected on the same day, is neither approved nor disapproved. Most of the provincial Colleges of Physicians and Surgeons do not have a policy about stem cells. However, the College of Physicians and Surgeons of Alberta (CSPA) released a document addressing privileges and standards specific to Stem Cell Regenerative Therapy for Non-Hospital Surgical Facilities (NHSF) in January 2018. We believe that Health Canada and College of Physicians and Surgeons of Ontario are in a data-gathering phase. Our clinic looks forward to complying with all Health Care regulation updates that may come of this. In the meantime, we adhere to stringent self-imposed guidelines to ensure that every procedure is performed safely and adequately.
Could treatment benefits not merely be a placebo effect?
Some health professionals have highlighted the influence that natural history and placebo may have in the improvement a patient may see after a stem cell treatment. Our team discusses that topic at great length in our meetings. To account for some of these effects, we try to consider many of the factors that have brought the patient to seek treatment like regenerative medicine.
Many patients have a prolonged history of low back pain that is unrelenting and affecting their ability to function as they would desire. Many of these same patients have tried several different treatment options, which are not immune to the confounding factors of placebo and regression to the mean and experience little to no sustained relief from their complaint. We consider this issue seriously, but equally so, we take the first-hand accounts of sustained pain relief and restoration of normal function from the patients who have received relief, where other treatments have failed, seriously as well.
Accessibility
From the scope of pain management, treatments for musculoskeletal conditions are inaccessible for many Canadians because of the scarcity of pain clinics as well as long waiting lists, often reaching two years. The available treatments range from prescribed medications, physiotherapy and complementary modalities up to surgery as the last option. However, surgery has its risks, an extended recovery period and offers limited results. Regenerative treatment in musculoskeletal conditions may provide a curative treatment for some patients. The increasing number of clinics offering stem cells reflects Canadians' need.
In the US, Stem cell use in clinical practice has dramatically increased. Bone marrow aspirate concentrate (BMAC) may represent the safest and most feasible source of these cells as reported by Taylor and Graff in 2015. Additionally, The FDA guidance advises that a same-day concentration of bone marrow (BMAC) without additives is considered minimal manipulation and covered under the Code of Federal Regulations 361 (FDA regulations and Turner, 2015).
Rigorous screening process
Since regenerative medicine for musculoskeletal conditions has only recently become accessible to Canadians, we have put in place a rigorous screening process which involves patients seeing multiple health professionals. In fact, someone wishing to receive treatment must first consult a radiologist, a rehabilitation professional, a nurse and our treating physician, all before receiving the treatment. The contribution of rehabilitative care before and after receiving the therapy increases its effectiveness. Additionally, by updating our practice with the recent advances in stem cell research and setting our protocols, we believe that Inovo Medical gained an excellent reputation among clinics that offer stem cell treatment.
In a word, stem cell treatment is a complex science. Although it is still experimental in some applications, the researchers have proved regenerative medicine in musculoskeletal conditions as a valid and safe treatment. Canadians deserve the best treatments available for musculoskeletal pain and that is what we strive to offer with stem cell treatments.
---
References
Basso, M., Cavagnaro, L., Zanirato, A., Divano, S., Formica, C., Formica , M., & Felli, L. (2017). What is the clinical evidence on regenerative medicine in the intervertebral disc degneration? Musculoskeletal Surgery, 101:93-
104.
Food and Drug Administration (2015, November 4). Homologous use of human cells, tissues, and cellular and tissue-based products:draft guidance for industry and FDA staff. Retrieved from https://www.fda.gov/downloads/biologics blood vaccines/guidance compliance regulatory information/guidances/tissue/ucm46951.pdf
Health Canada (2017). Safety of Human Cells, Tissues. Published by the Minister of Justice. Retrieved December 11, 2017
Pettine, K., Suzuki, R., Sand, T., & Murphy, M. (2017). Autologous bone marrow concentrate intradiscal injection for the treatment of degenerative disc disease with three-year follow-up. International Orthopedics, 41:2097-2103.
Taylor-Weiner, H., & Graff Zivin, J. (2015). Unlicensed Stem-Cell clinics in the United States. N Engl J Med, 373(11):985-987.
Turner LG., (2015). Federal regulatory oversight of US clinics marketing adipose-derived autologous stem cell interventions: insights from 3 new FDA draft guidance documents. Mayo Clin Proc., 90(5):567-571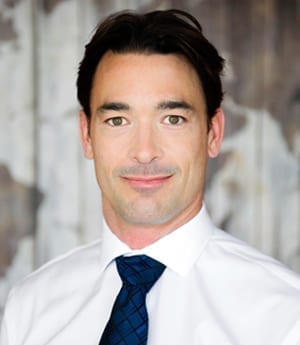 Mathieu Bélanger, MD, CCFP, CPSO Recognized Specialist (Chronic Pain), is the founder and President of Inovo Medical. Dr. Bélanger began his academic career by earning an undergraduate degree in kinesiology (i.e., the science of body mechanics) before enrolling in medicine at the University of Montréal. He is particularly interested in pain related to sports injuries and musculo-skeletal disorders. This interest led him to travel extensively for various types of training on pain treatment given by leading experts. Since then, his objective has been to play an active role in the development and delivery of the most sophisticated and effective treatments for chronic pain. By founding Inovo Medical, Dr. Bélanger hopes to deploy stem-cell technology in Canada, given that the results achieved with this technology are revolutionizing pain medicine.