Hair loss is a condition that affects both men and women of all ages. Hair transplantation and medicated shampoos are the traditional treatments, however, medical advances have brought forward a simpler option for hair restoration.
The Platelet-Rich Plasma (PRP) Hair Regrowth Treatment is an effective treatment for both men and women. PRP is a by-product of blood, which we obtain by separating the platelets from the red blood cells. These platelets have extensive healing properties. We use platelets on the scalp to awaken dormant follicles and reactivate hair growth, even after years of baldness.
The platelets are enriched with essential bioactive proteins that act as growth factors that accelerate the repair and regeneration of joint tissues. Also, PRP promotes the growth of new blood vessels and new collagen, which is required for healing.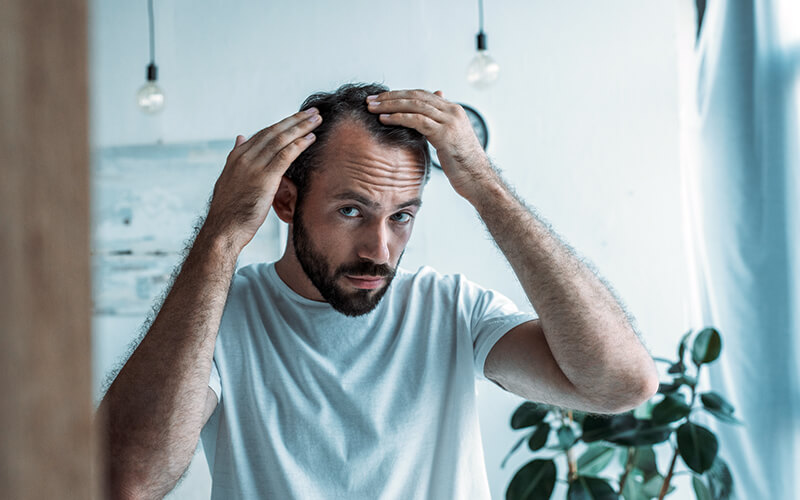 OUR TREATMENT METHODS
The PRP Hair Regrowth Treatment is an in-office procedure that uses the platelets found in your blood plasma. The procedure begins with local anesthesia to the scalp before we take a blood sample from you. The centrifugation process allows us to separate the platelets from the red blood cells, giving us plasma that is rich in platelets. We then inject the PRP directly into the scalp, where the hair is thinning. At this point, the regenerative solution stimulates the dormant hair follicles.
Direct injection is just one of two proven PRP methods we use at Inovo. As a secondary method, a micro-needling pen is used to optimize results by creating micro-trauma on the scalp. At Inovo Medical, we use both Dermapen and the The Beauty Booster. The Beauty Booster has the benefit of 9 tiny needles injecting directly into the scalp with more precision, depth and accurate dosing. It also minimizes the pain and decreases both treatment time and downtime.
The results may take several weeks to become apparent, but are amazing: a beautiful set of hair, without the need for hair transplantation.
Before beginning the treatment, our aesthetic professionals will first analyze your scalp to determine whether you are a good candidate. The success of the treatment largely depends on the presence of hair follicles under the scalp, which may disappear after years of baldness.
Why is it So Effective?
In addition to laser stimulation, for optimal results we recommend that the treatment be combined with other modalities for hair restoration. We frequently recommend different options for hair loss, including hair growth supplements and over the counter (OTC) medications.
Downtime and Side Effects
This cosmetic procedure has a low complication rate and is minimally invasive. Additionally, there is little downtime. It is an out-patient procedure, meaning that the procedure only takes a few hours, and you go home the same day. Risks include bruising, soreness, and swelling of the scalp.
Are There Any Contraindications to the PRP Hair Regrowth Treatment?
We do not recommend this treatment for hair loss caused by scarring. Also, we do not recommend this treatment for women who are either pregnant or breastfeeding, or for people who have a blood condition.
How Many Treatments Will I Need?
This depends on many factors. We often recommend one every month for the first three months. After this stage, a treatment every six to twelve months for upkeep is best. Results become apparent six weeks after the first treatment. We guarantee noticeable results. Conditions may apply.
Learn more about our other Hair Regrowth treatments, including Laser Hair Stimulation, on our Aesthetics website!