Analyzing body motion is sports is crucial to improving your performance, avoiding injuries, and maximizing your comfort.
For individuals or teams who want to focus on athletic performance, we have several services to offer. Many of our staff members were or are still high-level athletes and they understand your needs very well. From team screening to individual strength, power, balance, a training program, 3D posture analysis or simply orthotics that fit in your specialized shoes without adding too much weight, we've got you covered.
3D Optical Motion Capturing
We offer a 3D postural analysis. Whether it is sitting, walking, running, sprinting, skating, dancing, biking, or any other movement, we will analyze the postures that relevant to you.
ANALYSIS OF YOUR POSTURE AND YOUR SPECIFIC SPORT MOTIONS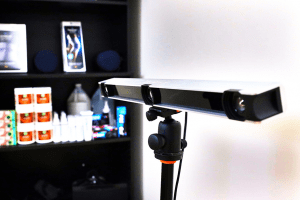 Analyzing body motion in sports is crucial to improving your performance, avoiding injuries and maximizing your comfort. On account of the aforementioned, having the right data is vital: the trainer, fitter, or specialist requires abundant and detailed information in order to assess an athlete's performance and provide valuable advice. This assessment is particularly useful after an injury or during a recovery period.
In our experience, relying on 2D video analysis applications should be avoided in motion analysis. The actions that take place in front of a standard camera are projected onto a 2D plane. The problem is that anatomical points do not move in a 2D plane: they move freely within a 3D space. Even seemingly 'flat' movements like a knee or ankle during a pedaling cycle have a third-dimension component which is very relevant when studying a motion in an effort to avoid injuries and boost performance. Therefore, a high-quality analysis system should always involve 3D tracking.
GOLF SWING ANALYSIS
Training Program
In order to optimize your athletic performance, specific muscles must be targeted and reinforced. Often times, training without guidance can lead to athletes training muscles that are unrelated to the sport at hand, or worse even, ignoring the important muscles altogether. Our team of professionals will help you and your team improve your performance by determining which muscles need reinforcement, and which exercises will help reach performance goals in the most efficient way possible. All this rolled up into a customized, high-quality, training program.
What we do
Training program for muscle reinforcement
Real-time and playback 3D visualization of the movement
Automatic generation of biomechanical curve
Swing/kick planes
Weight distribution
Lines and center of gravity
Automatic movement segmentation
Scientific analysis: a mathematical approach to analyzing your movement. Using new technology, your swing or kick can be analyzed with greater precision than ever before.
360° viewing capabilities
Choose screening or advanced analysis for you or your team
We have physiotherapists and chiropractors working under the supervision of Dr. Matheson and Dr. Belanger. Our team can provide analysis and training in the following areas:
Posture
Flexibility
Strength
Training schedule analysis to prevent overtraining
Adapted or revised musculoskeletal training program
Book a first appointment with the Inovo Medical team
---
Disclaimer: Results will vary among individuals, and there is no implication that you will heal or receive the same outcome as patients herein. The information in this website is offered for educational purposed only and does not imply or give medical advice. The photos used may be models and not patients.